横顔、断面、輪郭、人物紹介といった意味を持つ言葉、profile(プロフィール)
正面だけでなく、さまざまな角度がもたらす陰影は、時として、むしろそのものの本質を表わすのかもしれません。
例えば、鏡で見る横顔は、正面より自分らしい表情を浮かべることもあります。また、愛用のコレクションは自らの分身のような存在です。自分自身を映す、ふたつの小家具。家具のデザインを長年手がけた経験と、日本の好ましい素材や優れた職人との出会いから生まれた、新しいファニチャーラインです。
永く目にして触れるものだからこそ、素材の個性とつくりの良さが魅力を増していきます。フレームはイタヤカエデ。ウッドジュエリーと同じ北海道の樹木から製材しています。厳寒の地が育んだ豊かな杢目とつややかな木肌は、触れる手にも温かい。澄みきったガラス扉のコレクションケースは、国内でも数少ない曲硝子職人の仕事です。硬質なガラスは人の手によりとろりと流れ、ゆるやかなアールを描き出します。
みる、見る、観る、みつめる、のぞきこむ、眺める、開く、閉じる、しまう。
何気ない日々の所作が、心地よい時間と風景になる、これはあなたが主役の小さな家具です。
"Profile" can mean the face seen from the side, a cross section, outline, or a description of an individual. The light and shadows reflected from different angles by these items reflect the true nature of its subject.

At times, a profile seen in the mirror reveals an expression that is a truer version of the self than seen from the front. Meanwhile, one's beloved collection is like an extension of the self. In these ways, these two pieces of furniture reflect who you are. It is a new furniture line founded upon years of experience in furniture design, the discovery of excellent materials, and built by the hands of the skilled craftsmen of Japan.

Its materials grow in beauty through touch over the years. The frame is made from hard maple. The intensely cold climate in which these trees grow, create rich grains and silky texture that is warm to the touch. The curved glass of the showcase is the work of one of the few remaining bent glass craftsmen of Japan. Hard glass is melted soft by hand to create a gentle curve.

Look, see, view, gaze, peek, observe, open, close, store.
This is your small piece of furniture that transforms the ordinary motions of daily life into heartwarming moments.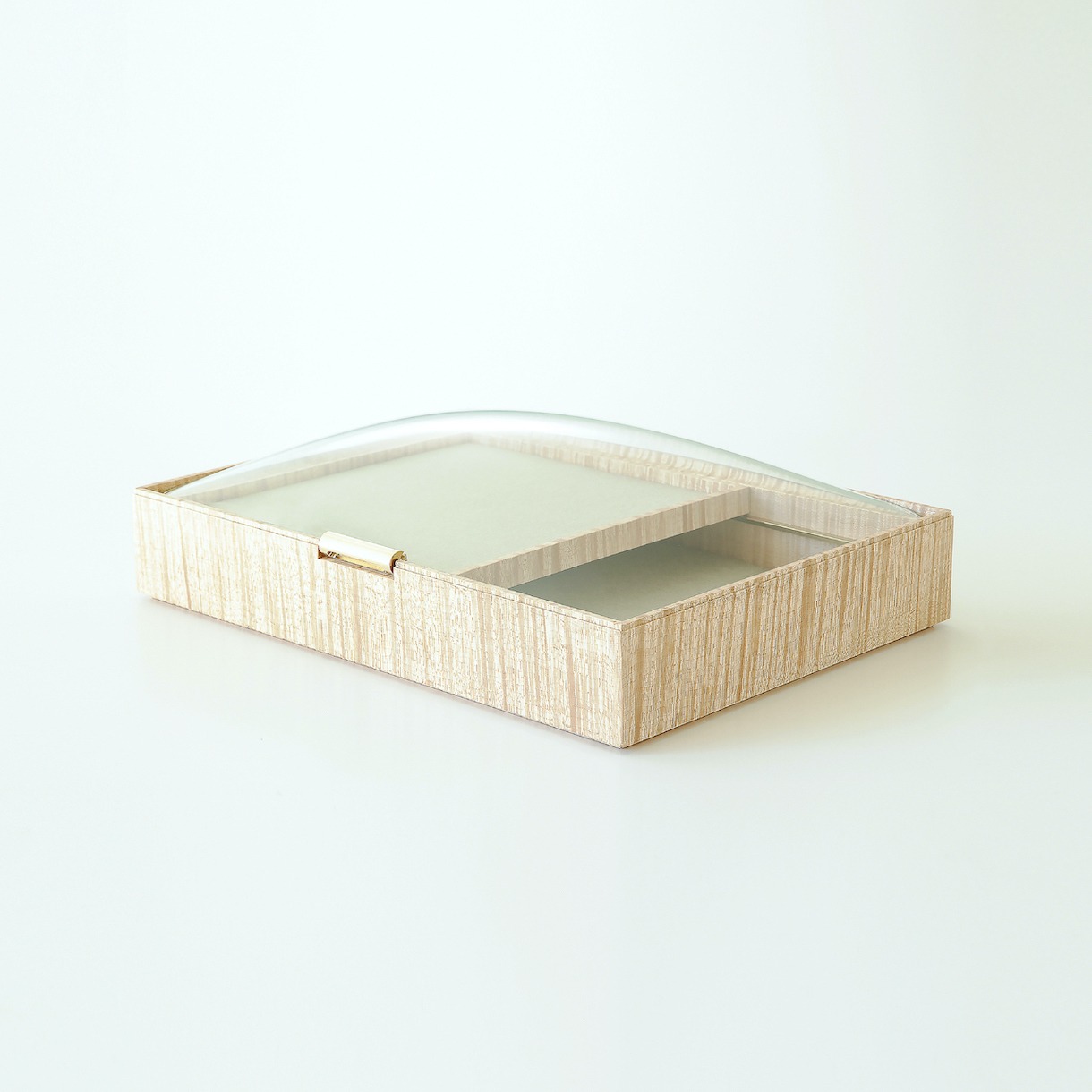 2022-2023 Collection "profile" のオンラインショップページは
こちら
から